Interactively exploring ocean insights
Interactively explore and build purpose-oriented all-in-one sharable dashboards to preview and analyze real-time and historical data from one or multiple sensors across the fleet or site to reduce unplanned downtime or cancellations of operations, as well as fuel and emissions.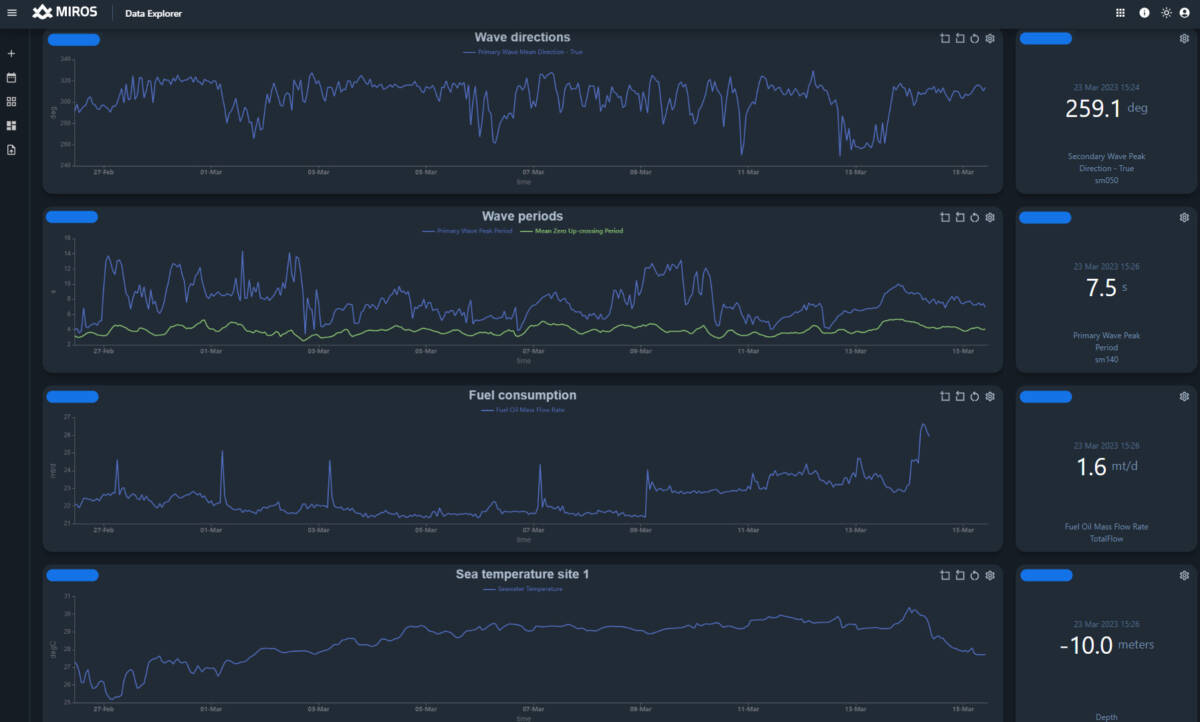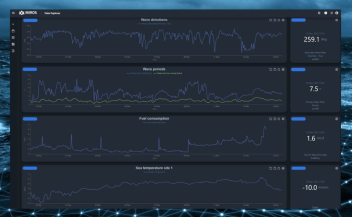 One of the key challenges facing all offshore sectors is how to plan operations safely and efficiently against a backdrop of changing wave conditions. It's a scenario that impacts everything, from operators who need to safely transfer maintenance crews on and off offshore assets, to decisions about the optimum positioning of vessels when they are carrying out work, and all the way to long-term life extension assessments. Having access to accurate and reliable data at the right time to determine when operations can be carried out is critical for several reasons. Benefits range from reducing unplanned downtime or cancellation of offshore operations caused by weather uncertainty to the associated environmental gains of reducing fuel consumption and unnecessary emissions as a result. However, to gather the information needed, decision-makers or data scientists usually need to maintain and access multiple data sources on an ongoing basis – a time-consuming, complex, and costly process. An application developed by Miros, a global leader in ocean insights, is now providing users with a far more uncomplicated solution that enables them to evaluate both real-time and historical data from multiple devices in a single all-encompassing application.
See real-time sea state data on miros.app.
Developed initially for the shipping market in response to customer demand, but now with applications for all offshore-related markets and industries, the Miros Data Explorer removes the need for users to access several data sources, giving them a complete preview of the critical information required to make immediate decisions. The same application gives access to historical data which decision-makers can use to analyze the impact that long-term or cyclical wave activity in combination with other data sources has on operations or assets. This dashboard, with its historical and real-time sea state data, can be easily shared with other stakeholders across an organization or project. Customer input was a key factor in the creation of 
Data Explorer
. Faced with the challenges and complexities of data gathering from a variety of sources, we were approached and asked to develop a clever solution. Extremely versatile, Data Explorer has also been designed to integrate with multiple data sources, not just Miros' sensors. Even more flexible in its capabilities, it doesn't just visualize wave data from the Miros sensors but can be used to explore and compare data from a variety of sources located offshore, including modeled data. The ability to integrate various types of data from a wide range of sensors which can be analyzed through a single application makes Data Explorer an exciting innovation in the market. Optimized with ease of use, it's straightforward to operate and easily allows users from any offshore-related sector to set up their own custom-built dashboards, based on their preferred parameters and the type of information they want to access and analyze.
Learn more about the benefits and features of Data Explorer.
Offshore applications
For the offshore wind sector
Data Explorer can collate data from across different sites within a project, provided they are equipped with sensors. That could range from a single turbine in one wind farm to all the wind farms from the customer's global portfolio. The dashboards provide access to the data for the wind farm operators as well as any vessels involved in the project, so everybody gets the same overview of the weather conditions at the farm. Access to historical data on wave conditions is also invaluable for analyzing wear and tear to turbines and their foundations, giving operators the ability to carry out long-term assessments of a structure's integrity.
For shipping and offshore operations
Vessel owners use Data Explorer to explore data from a variety of sensors onboard a single vessel or an entire fleet to provide information such as vessel speed through water, wave and current conditions or fuel consumption. Analysis of real-time information about fuel consumption can determine how it is impacted by sea conditions and whether; for example, a vessel will have to consume more fuel when battling against strong currents to maintain speed and catch its planned voyage or contract commitments.
For the ports and coastal sector
Data Explorer can support port authorities in analyzing historical data and checking the wave impact on infrastructure. The real-time data can be utilized to improve port access planning and monitor bridge clearance. For all offshore-related industries, accurate reliable data is critical in driving efforts to reduce environmental impact, helping to make better, more sustainable strategies that can also reduce operational costs and leading credence to the phrase that knowledge is power.
Contact us for further details or a demo.
Discover our latest use cases here.


We're happy to help you with any questions about our products and services.