On the Radar: Sharing Real-Time Sea-State Insights for Maritime Industries
As businesses across industries look for ways to increase efficiency and safety while reducing costs, simplifying data collection is a top priority. Within the wide scope of maritime industries, all can benefit from adopting real-time sea-state monitoring systems. From offshore oil and gas to coastal monitoring, offshore wind farms to merchant shipping, the enhanced planning, situational awareness, performance optimisation and hindsight analysis on offer is game-changing. The range of applications, along with the scale of operational improvement potential is, in many ways, endless.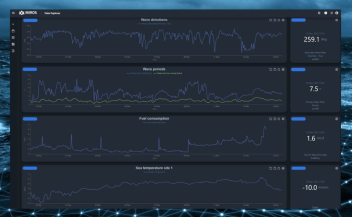 We're not only launching the Miros blog to introduce and discuss our own real-time sea-state monitoring technologies and services. We hope to share more general innovations and trends that drive our industry forward too. These may include technology and business models from outside the industry, even. We simply hope to address some of the curiosities and pain points related to the maritime industry. Additionally, we hope to explore how they might be solved.
A Revolution in Ocean Monitoring
Miros is currently on an exciting journey to modernise its sensors and systems. During 2018 we launched a number of IoT-versions of our key sensors and have rolled out a Cloud-based service to fully leverage the era of Internet-of-Things and Big Data too. With our new portfolio of sensors and services, we believe we have started a small revolution in real-time sea-state monitoring. We believe this future-facing shift in approach can positively change the way people use and share data and insights about weather-critical marine operations.
Our portfolio has been designed with the future of marine operations, shipping and coastal monitoring in mind. None of Miros' wave monitoring products are installed on buoys or submerged in seawater. This allows for highly cost-effective installation and maintenance, without any of the complications presented by wet equipment. Miros' sensors connect seamlessly to the Cloud, with all relevant wave and current parameters being made accessible for users anywhere, anytime.
Real-Time Sea State Data in the Palm of Your Hand
In the coming months, we will be writing more about the ways you can apply these solutions to manage the challenges of the offshore and marine industries of the world. We hope we will be suitably positioned to help you meet your business goals and improve sustainability. Furthermore, we encourage you to join the conversation on social media, by email, and in person too.


We're happy to help you with any questions about our products and services.