Crew transfers for offshore wind farms could be improved thanks to new research
The University of Strathclyde, EDF and Miros are working together to research and test the ORACLES (Offshore Renewable ACess Loss Estimation & Safety) forecasting methodology at Teesside offshore wind farm.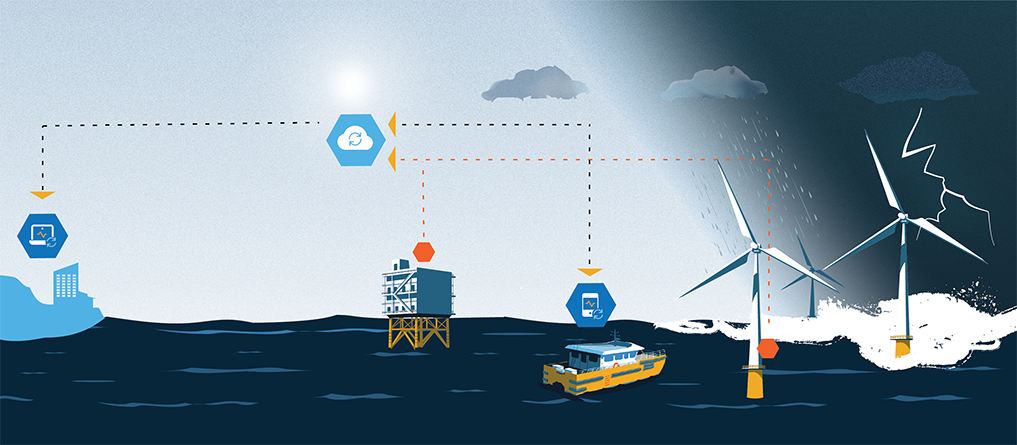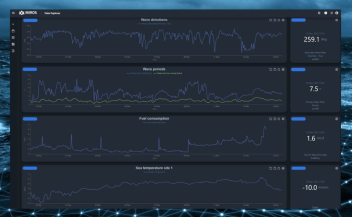 ORACLES+ will use a diverse set of operational data to better forecast key access conditions for crew transfer operations. The forecasts will be tested at every stage of the decision-making process, from site supervisor to marine co-ordinator to vessel master and turbine technician, to ensure better vessel dispatch and crew transfer decisions. On a large offshore wind farm site improved operational decision-making could deliver financial benefits in excess of £1m a year.
The project, jointly funded by The Data Lab Innovation Centre and EDF, will involve a Miros wave radar being fitted to a Teesside offshore wind farm turbine, and Miros' cloud will be used to present the ORACLES metrics to key decision makers throughout the decision-chain. This study will run for a year, which will allow the operational teams to provide feedback on forecasts with respect to their day-to-day work.
University of Strathclyde Project lead, Dr David McMillan explained: "We are excited to be carrying out this research at EDF's Teesside offshore wind farm in a live demo of ORACLES. The wind industry needs some further tangible operational cost reduction use cases to further drive down the cost of offshore wind, and we are hopeful to deliver one within ORACLES+."
EDF Project lead Dr Antoine Joly said: "Safety is our overriding priority, and as such we are pleased to be able to test the ORACLES forecasting methodology as a means to improve the safety of our technicians during offshore operations."
Miros Project lead and Chief Technology Officer, Gunnar Prytz stated: '' We are thrilled to have the privileged opportunity to collaborate with both academia and an offshore wind developer. This research project is key to fully understand and allow project stakeholders to unlock the true value by fusing both real time and forecast data for integration on one user interface platform, Miros Cloud.  This in turn should allow for safer and smarter decision making to execute successful crew transfers. We are optimistic that the results will necessitate a new Miros product offering to the offshore wind sector that will deliver true risk and cost reduction."
Gillian Docherty OBE, CEO of The Data Lab said: "The Data Lab is delighted to contribute to the funding of this innovative industry project. Improving the safety provision for offshore crews is a vital area of work and this project will deliver data-driven decision-making that reduces the risk to all those involved in the development of the UK's growing offshore wind sector."
Read also: Steadfast economic benefit from real-time wave measurements
For further project information, contact:
David McMillan
University of Strathclyde
For further information how Miros supports the Renewables sector, contact:
Maggie McMillan, VP Renewables, Miros or read more here.
About University of Strathclyde
The University of Strathclyde is a leading international technological university based in the centre of Glasgow, founded in 1796 as the Andersonian Institute. Inspired by our founding principle as 'a place of useful learning', our mission is to make a positive difference to the lives of our students, to society and to the world. Strathclyde students benefit from an innovative and practical educational experience enhanced by its integration with our research capabilities, high-quality academic resources, and an unparalleled industry engagement programme.
About EDF
EDF is helping Britain achieve Net Zero by leading the transition to a cleaner, low emission electric future and tackling climate change. We are Britain's biggest generator of zero carbon electricity – from our eight nuclear power stations and more than thirty wind farms – meeting around one-fifth of the country's demand. In addition to being one of the largest suppliers to British homes and businesses, we're a leading supplier of innovative energy solutions that are helping our customers become more energy efficient and independent. EDF is part of EDF Group, the world's biggest electricity generator. In the UK we employ around 11,000 people.
About The Data Lab
The Data Lab Innovation Centre's mission is to help Scotland maximise value from data and AI and lead the world to a data-powered future. Its activities are focused on accelerating the journey by fueling innovation through collaboration, building skills, growing talent, and strengthening Scotland's thriving data science community. The Data Lab is one of seven Innovation Centres funded by The Scottish Funding Council with support from Scottish Enterprise and Highlands and Islands Enterprise. 


We're happy to help you with any questions about our products and services.