Case Study: How Miros data supports the world's first floating offshore wind farm
Miros' real-time data has helped Equinor achieve a 54% capacity factor at the Hywind Scotland site over its first five years of operations, an increase of 4-14% compared to the industry standard for a new offshore wind project.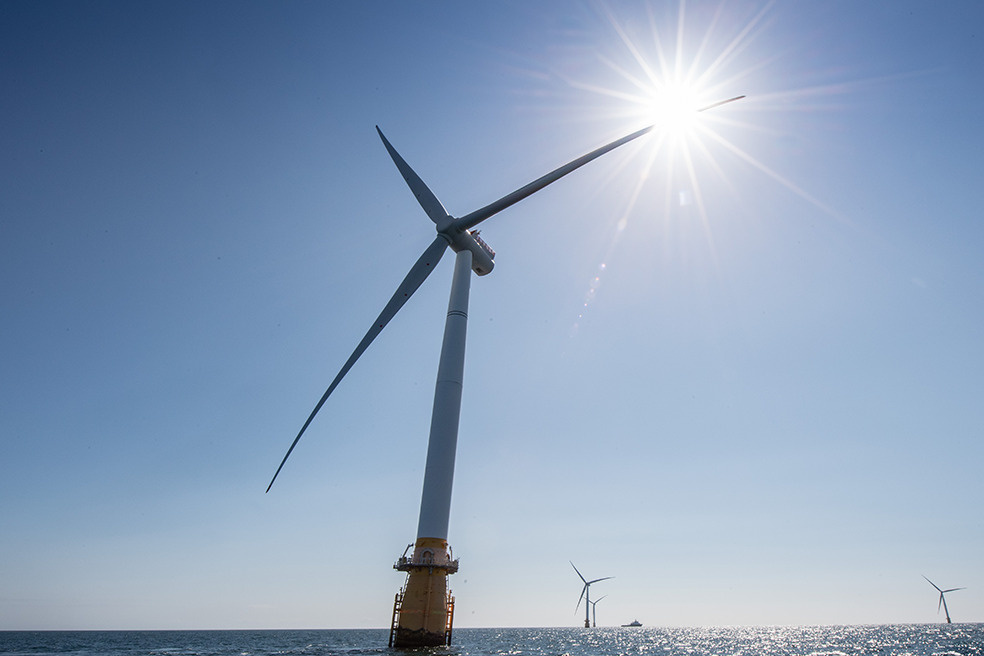 Image: Hywind Scotland floating windfarm, Credit: Equinor ASA 
To download this case study, click here.
Hywind Scotland, located off the coast of Peterhead, Scotland, was the world's first floating offshore wind farm and is now the world's best-performing offshore wind farm, achieving a capacity factor of 54% over its five years of operations. It is operated by Hywind (Scotland) Limited, a joint venture of Equinor (75%) and Masdar (25%).
The farm, which has been in operation since 2017, has five 6MW Siemens direct-drive turbines on Hywind floating spar foundations, with a total capacity of 30 MW. Hywind Scotland generates enough electricity to power the equivalent of 20,000 UK homes.
The Hywind Scotland site is challenging to access due to its location with predominantly high wave heights and wind speeds. Equinor must use high-performing crew transfer vessels and, even with the latest technology, the window for safe operations is quite limited with wave heights up to 2m considered as significant and cranes being used at wind speeds below 12m/s. To ensure personnel safety and asset integrity while performing activities at sea, Equinor must operate under certain weather limits.
Offshore access and operational planning decisions are typically made using weather forecasts which are largely based on hindcast models with coarse grids and limited availability of high-quality, real-time data. However, this modeled data is not always accurate, so it is necessary for operational teams to have access to a live monitoring solution and real-time data from the site to ensure crew safety and reduce operational expenditure. This further aims to reduce operational costs and emissions due to canceled offshore operations due to weather.
Miros installed two IoT-enabled RangeFinders and one multi-parameter weather sensor at two turbine locations. The RangeFinders communicate via the Miros Cloud solution, powered by Microsoft Azure, to allow secure data access, visualisation and sharing.
Prior to installation, project design, layout and other environmental parameters were used to determine optimal sensor placement on the floating turbines to provide a more precise, holistic overview of the varying sea state conditions across the site.
The wave sensors on Hywind Scotland measure wave parameters, water level, and range data at high frequency. Since the installation is a floating type, knowing the motion parameters is a key factor impacting the structure dynamics. Therefore, the wave sensors are equipped with motion reference units that are used to accommodate the movement of the turbine to ensure accurate wave measurements.
The real-time data is easily accessible for Equinor's operational teams, the transfer vessel crews, and any contractors working on the wind farm, thus increasing transparency and collaboration by allowing easy access to the data remotely on any device and from anywhere. Furthermore, the solution also provides historical data, allowing Equinor to map trends and the impact of severe waves and weather on the wind turbines enhancing predictive maintenance.
The floating farm has achieved the highest average capacity factor of all UK offshore windfarms.
Miros' solution was chosen to support Equinor's primary goal of reducing costs through technological improvements and increasing the scale of projects. Due to our extensive track record of successfully bolstering other Equinor projects, we leveraged our long-year relationship as a trusted provider of reliable and accurate sea condition measurement provider.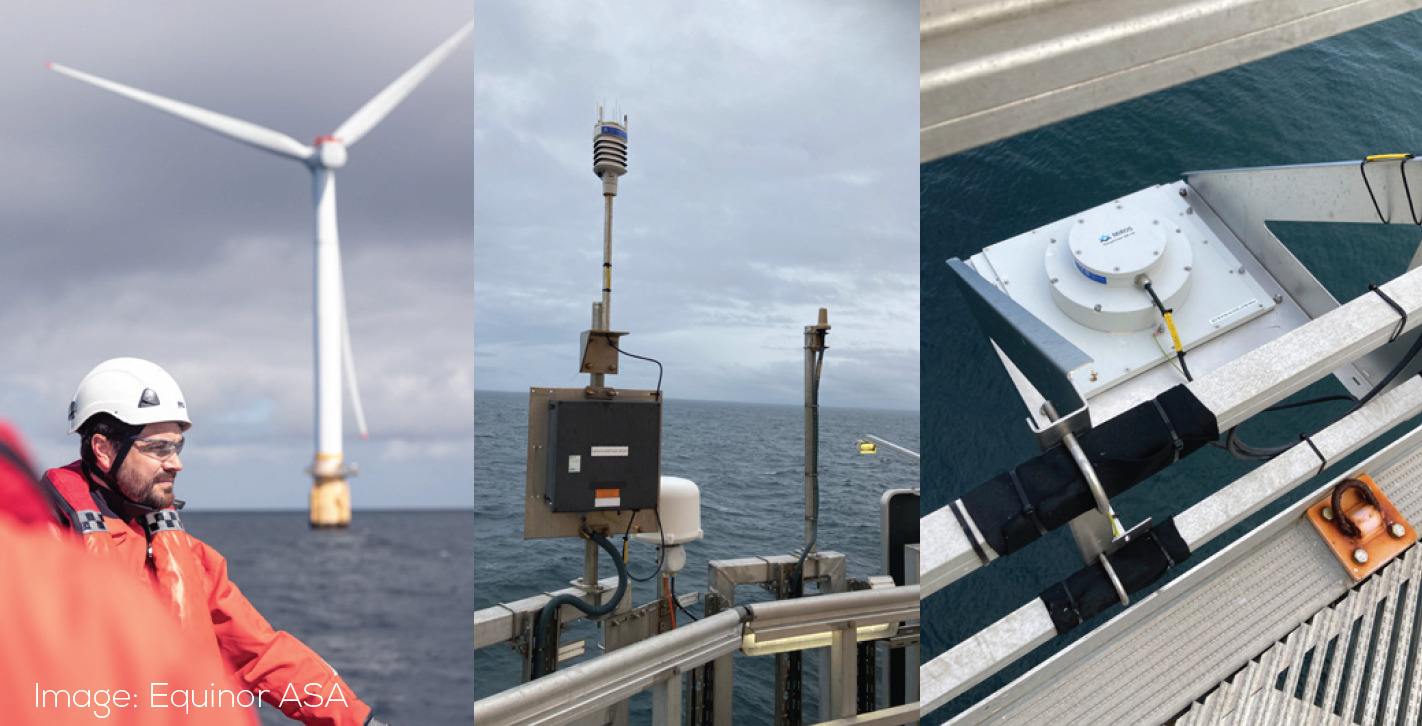 Miros RangeFinder and weather sensor installed on Hywind turbine
"Replacing or validating modelled sea condition forecasts with accurate, reliable real-time measurements makes an important impact on our operations. It allows for more precise scheduling of operations and maintenance activities, which in return increases the work efficiency as well as safety of offshore personnel. In addition, there is the potential for a reduction of costs and emissions from vessels having to return to base without completing their work scopes." Mark Boon – O&M Engineer – Hywind Scotland Pilot Park
Having quick and easy access to essential and accurate real-time data and the means to share this securely with additional stakeholders, including crew transfer vessels and maintenance teams, enables critical pre-vessel mobilisation and in-field decision-making regarding necessary operations and maintenance. This results in avoiding wasted or aborted vessel trips, improving crew safety, and reducing CO2 emissions and unnecessary turbine downtime.
The ability to see maximum wave heights and historical data is particularly useful information to support asset integrity and life extension analysis and planning. Utilising this data to understand the impact of waves on the turbine structure allows the operator to plan and undertake preventative maintenance tasks in order to mitigate reactive maintenance or premature decommissioning.
Sharing live wave and weather data is also important for the weather service providers, as having the direct feed from the assets allows them to optimise their weather forecasts and benchmark their weather models.
As the sensors are not submerged in water and do not need calibration, there are minimal physical maintenance requirements, as the IoT nature of the sensors allows for remote troubleshooting and automatic software updates. As processing streams, data storage and integrations are moved from workstations and servers to the cloud, further operational cost reductions like infrastructure costs, energy consumption, and environmental impacts can ultimately be reduced.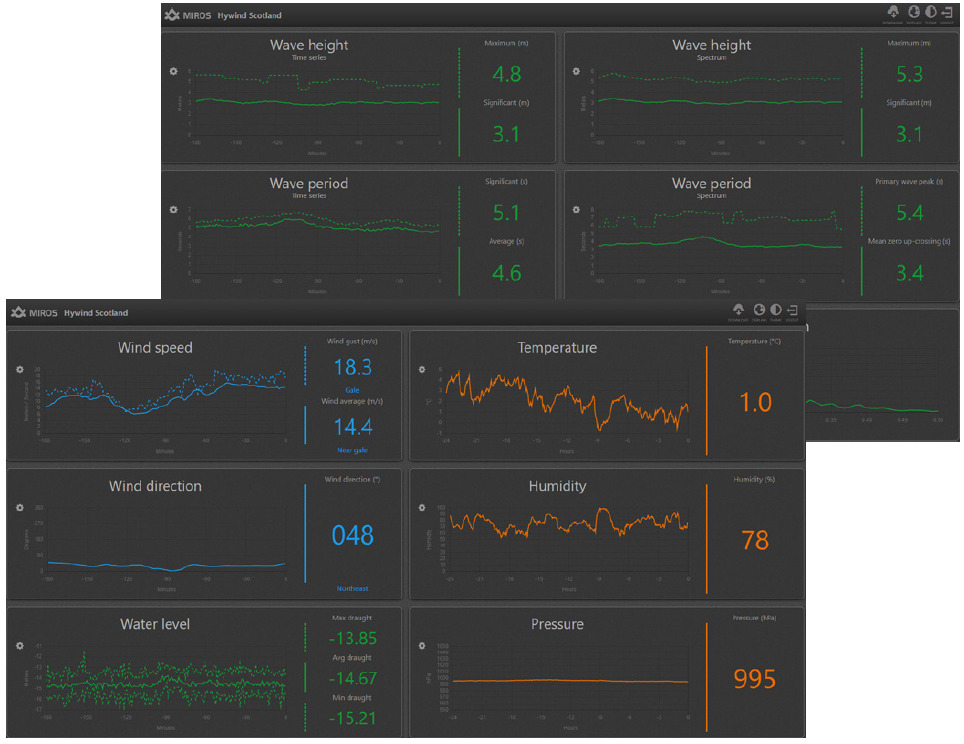 Miros Cloud dashboard showing Hywind Scotland
real-time sea state data accessible anytime, anywhere and on any device.


We're happy to help you with any questions about our products and services.