These are the top 10 reasons why maritime operators trust Miros Oil Spill Detection
Miros Oil Spill Detection (OSD) is an automatic early warning system for dangers and disasters threatening the maritime ecosystem. With over 250 vital Miros OSD systems deployed anywhere from India to Brazil, Miros is part of a broad initiative for combatting marine pollution. Through innovative, disruptive technology for measuring the ocean surface, Miros drives the development of risk reduction strategies and early warning systems forward, strengthening resilience against climate-related hazards and disasters.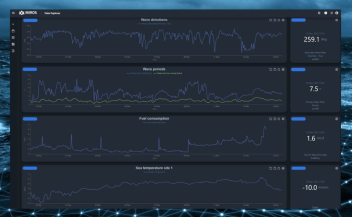 The Miros OSD™ system is being continuously enhanced, developed, and tested. Miros sensors are used in research projects worldwide, and our novel solutions for measuring ocean surface currents and wave parameters have even been given the seal of approval by some of the world's most respected scientific agencies.
"With the increase of maritime actors taking on more environmental responsibility, we are glad to see more and more offshore operators, ship owners, coastal & maritime safety agencies, and scientific organisations realising the value of our proven technology to help them succeed in reducing risk for potential environmental damage by putting their trust towards a verified solution like Miros OSD to continuously and reliably monitor defined high-risk areas".  
These are the top 10 reasons why maritime actors trust Miros OSD:
1  –  Proven efficacy in genuine spill incidents
Thoroughly tested and verified in oil-in-water exercises since 2004.
2  –  Fully automated spill detection
No need for manual intervention. 
Can easily be switched to manual mode while guiding recovery operations.
3  –  Early alarm generation
Allows for more time to verify and characterize the spill and decide on the appropriate response.
4  –  Unique ability to interpret multiple indicators simultaneously
Only triggering alarms when the "right" combination of indicators identified.
5  –  Reduces the risk (and potential cost) of false alarms
6  –  Optimal tracking in the toughest conditions
Fully functional in low visibility or darkness.
7  –  The system can be used either as a standalone or as part of a sensor network
Data from Miros OSD are a vital contribution to 3rd party response management systems.
8  –  Each slick is characterised by area and drift
Displayed on a graphical user interface.
9  –  Can be mounted on offshore installations, vessels, or shore-based stations
10  –  Best available and proven OSD System
Gives authorities and operators the confidence that they are applying the best available technology to detect and control oil spills.
Quick mobilisation is key to reduce the threat posed to marine wildlife and the ecosystem
Early alarm generation and appropriate spill response keep the oil from spreading over larger areas, making it easier to combat and avoid further pollution when actioning recovery operations.


Two-thirds of the European Maritime Safety Agency's oil spill response vessels and 16 NOFO oil response vessels are fitted with Miros OSD Recovery systems. The OSD functions as an aid for the navigation of the vessel towards the oil slick and the correct positioning of booms and skimmers. The system tracks the oil slick over time, logging data from the operation to support the post-incident analysis. Equipped with infrared cameras, the operation can even continue in poor visibility, or at night. It's an essential tool for oil spill detection during chemical dispersant operations or mechanical oil recovery and helps to act safe, quick and effective avoiding further unnecessary damage to the environment.
Preferred provider to the offshore industry for more than 35 years
As a global leader in the provision of tools supporting oil spill response and surveillance operations, we are proud to be the trusted provider of reliable ocean surface measurements aiding clean-up operations, helping save wildlife and maintain the balance of the local ecosystem, as well as contributing providing damage assessment and help to identify the polluters.
If you would like more information about our oil spill detection system, please don't hesitate to get in touch.
Read more about Oil Spill Detection
Miros Oil Spill Detection: Frequently Asked Questions
Additional resources: Case Studies, Webinars, Datasheets and more


We're happy to help you with any questions about our products and services.